New Orleans, Louisiana                    August 25, 2019
The 2019 LGA Net Amateur Championship concluded under sunny skies on Sunday at English Turn Golf & Country Club. David Barham of Opelousas captured the LGA Net Amateur Championship with a 36-hole total of six-under par 138. Barham carded rounds of 68-70, and securing victory by one-hot. Catherine Hodson of New Orleans seized a victory in the LGA Women's Net Amateur Championship, with rounds of 79-78 en route to a five-shot victory. The Women's Championship is in its sophomore year and shows signs of becoming a truly competitive part of the LGA Net Amateur.
Hodson carded five birdies over the course of the weekend, she showcased mentally toughness battling the soft, wet conditions throughout the weekend. She won this Championship by an impressive five strokes over defending champion Jane Rosen of Metairie who finished at 18-over par 162 for the Championship. Christina Popp of Lafayette finished in third place with a 24-over par 168 36-hole total.
Barham carded five birdies and an eagle on the weekend. His first round 68 put him one-shot off the lead after 18-holes, and a strong second round two-under 70 made for a six-under 138 36-hole total. That would be the recipe for a one-shot victory over Barry Burns of Metairie (72-67-139) and Scott Foreman of Mandeville (68-71-139). The top-5 finishers in the Men's Overall Championship received prizes.  Rounding out the Top 5 were: 4. UJ Mollere of Metairie (68-72-140), 5. Mohammad Nawaz of Raceland (72-69-141).
As previously mentioned, this year's event was held at the Jack Nicklaus designed English Turn Golf & Country Club. The golf course was saturated by nearly 7 inches of rain that rolled in earlier in the week. Superintendent, Jonathan Juhas and his staff had the greens rolling true and golf course in the best condition possible for the championship. The course played to a par of 72 at approximately 6,440 yards for the men and 5,376 yards. Sunday's play was conducted under cloudy skies with intermittent rain.
The top 5 finishers in the Overall Championship were taken out of their respective flight at the conclusion of play on Sunday.  Top 3 finishers in each flight also won prizes. Flight winners included:  2013 & 2016 Net Amateur Champion Mike Hymel of Hammond (St. Andrews/146), Bryan McCullough of Lake Charles (Prestwick/144), Ricky Norwood of Lake Charles (Troon/143), and Julius Courville of Lake Charles (Carnoustie/143). If there had been a tie for the Overall Championship, there would have been a three-hole, cumulative score playoff (with 1/6 of handicap) beginning on a hole determined by the Championship Committee. All other ties, which determined prizes or recognition, were decided by matching scorecards. The USGA method, as prescribed in Appendix I of the current Rules of Golf booklet, was utilized (i.e., last 9 holes; if still tied, last 6 holes; if still tied, last 3 holes; if still tied, 18th hole).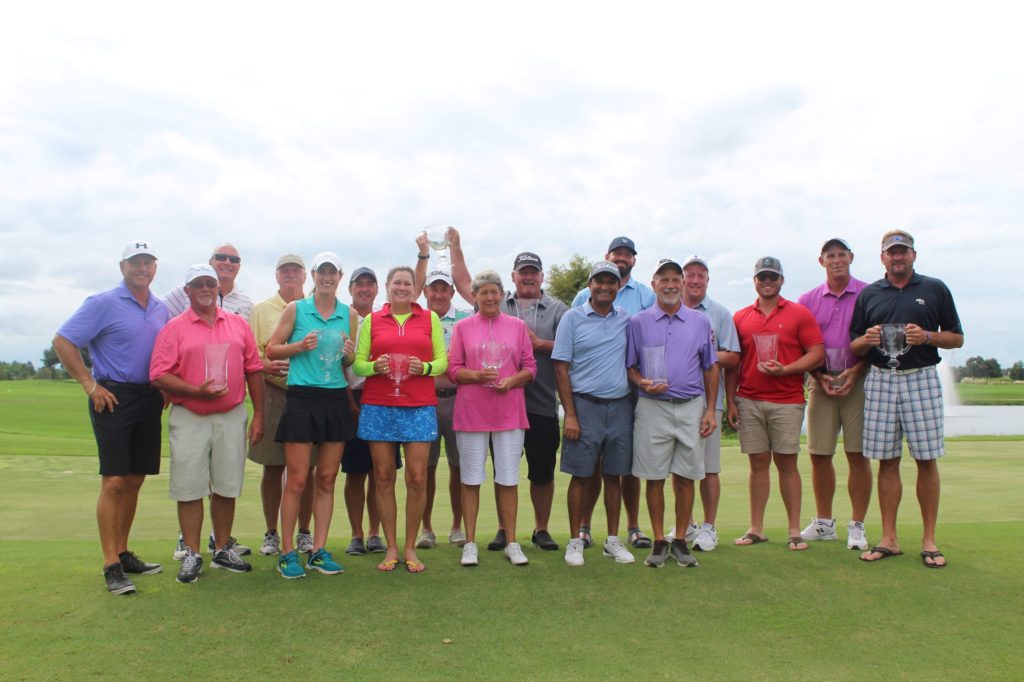 The most improved golfer goes to Mike Davis of Baton Rouge who shot a 68 on Sunday, improving by 14 strokes from his first-round score.
The LGA conducts this event to provide a Championship for the higher handicap players with procedures in place that assure consistency and integrity. The LGA utilizes the USGA Tournament Score Probability Table to adjust any handicap indexes when a player's score exceeds normal probability.
In the Net Club Team Championship, conducted concurrently with the Net Amateur, The National Golf Club of Louisiana #2 won by finishing at even par 432. Team members included: Julius Courville, Carl Lemaire, Ricky Norwood, Ronnie Gibbs. In the Net Club Team Championship, team totals are comprised by combining the low three individual scores each round from four-man teams. The National GC of LA #2 won by six shots over the team from Beau Chene Country Club.
Next year's Championship will be held at the Greystone Golf & Country Club in Denham Springs, August 22-23, 2020.
Click here to view Final Results