Abita Springs, Louisiana May 17, 2019
Tommy Brennan of Covington leads the 30th LGA Senior Amateur after 36-holes. Brennan, the 18-hole leader after an opening round three-under par 69, fired a one-under par 71 to increase his lead on the field. Brennan started his second round on the 10th hole and quickly got his round into red numbers after making a birdie at the par 5 11th hole. He gave a shot back after a bogey at the short par 4 13th. Brennan closed out his outward nine with five straight pars making the turn at even par 36. Brennan would go on to make bogey at the tough 2nd hole which played 387-yards into the breeze. He bounced back making birdies at holes 3 and 5. However, a bogey at the 7th would bring him back to even par, until he reached the long par 4 9th which he birdied to finish at one-under par 35 for a 71 18-hole total. After rounds of 69 and 71, Brennan is the only player in the field to play the first and second rounds under par. Grady Brame, Sr. of Hammond and David Knight of Baton Rouge trail Brennan by four shots heading into the final round and will accompany him in the final pairing on Saturday, set to tee off at 10:21 AM.
Brame backpedaled in the Second Round, after four straight pars a double-bogey on the 365-yard par 4 5th would lead to a two-over par 38 going out. On the way back in, a bogey on 14 and a birdie on the home hole would cap off an even par back nine for a two-over par 74 an even par 144 36-hole total. Knight made to huge birdies in the first four holes of the day, followed by an unfortunate bogey on the par 4 15th, but would get it back in the par 5 17th hole to make the turn at two-under par 34. Three bogeys and two birdies on holes six and eight made for a one-over 37 inward nine, finishing the day in red numbers at one-under 71. He and Brame sit tied for second four shots back of the lead. Ken Buchan of Monroe was the only other player in the field under par in Friday's Second Round shooting 33-38 for a one-under par 71.
In the Super Senior Division, defending champion Frank Brame of Alexandria went wire-to-wire to capture back-to-back Super Senior titles. Brame made four bogeys on the day to shoot a four-over par 76. After firing an opening round 71, his lead would hold as the close chasers after round one faded, finishing at five-over par 149 after 36-holes. Michael Scurria of Baton Rouge and Henry Cole of Monroe would both rally from slow starts on day one and share a piece of second place four shots back of Brame. Scurria shot an open round 77 followed by a 76 to finish at nine-over par 153 36-hole total. While Cole shot a 78 in the First Round with a closing 75 to tie second at nine-over par 153.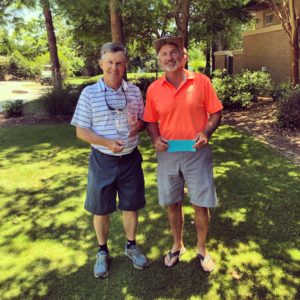 The skies were clear and the breeze was slight on this beautiful 80-degree day in May. The Ron Garl designed Money Hill Golf & Country Club Track played to a par 72 at approximately 6,554 yards for the Overall Championship and 6,110 for the Super Seniors. The golf course proved a difficult test on moving day playing a shot harder than the First Round.
60 players made the cut at 25-over par 169 on Friday evening and will tee it up for the Final Round on Saturday, tee times will begin at 7:30 AM off of the first tee.
Click here for Round 2 Results.
Click here to view Final Round Pairings.