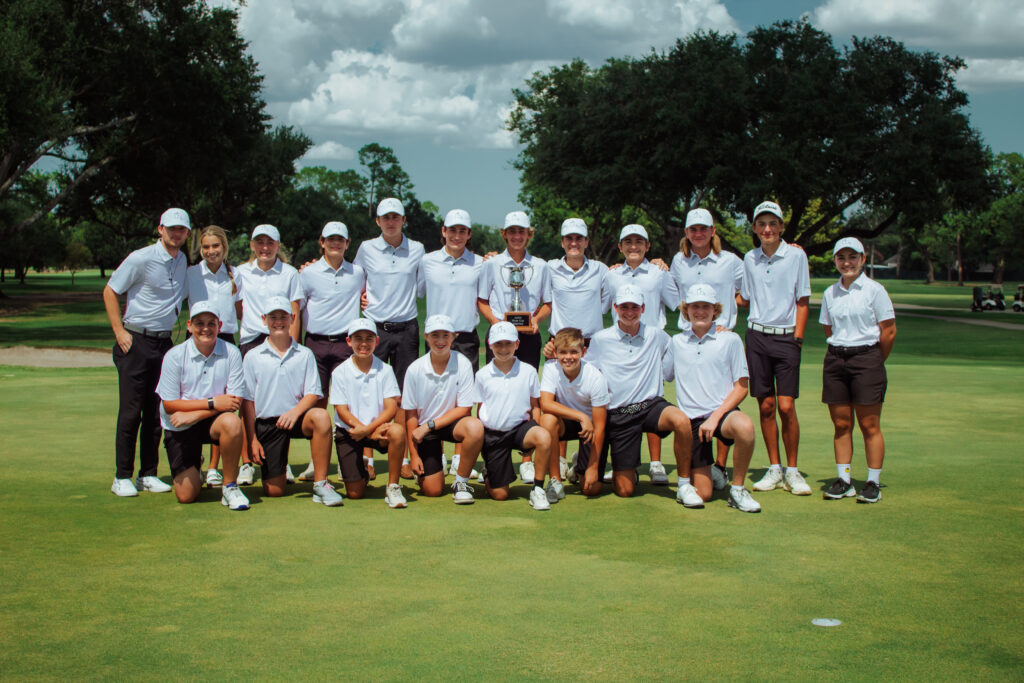 Monroe, Louisiana – September 17, 2023
Final round results of the 2023 Junior River Cup at Bayou Desiard Country Club in Monroe, Louisiana on Sunday, September 17, 2023.
Championship Links: Scoring & Results | Championship Website | Photo Gallery
40 players competed in final round of the 2023 Junior River Cup. Tee times began at 7:30 AM off the 1st tee. The final group finished early at 2:15 PM. The course played to a par 72 at 6,700 yards for the Boy's 14-18 Division, 5,700 yards for the Girls and 12-14 Boy's Divisions, and 5,400 yards for the 10-11 Boy's Division.
It was an action-packed weekend of golf at the Bayou Desiard Country Club, the official site for the 2023 Junior River Cup matches. Team Louisiana defeated Team Mississippi in the final round with a score of 26-14, taking home the trophy as well as the overall lead 7-6..
In the 10–11-year-old boys' division, Louisiana took charge on Sunday, with Derby Everson, Eli Knighton, and Crew Galambos finishing victorious in their matches, claiming three crucial points for the team.
Over in the Girls division, it was a showdown. Team Louisiana's Vivian Volion nailed her match at 4&3, and Mattie Purgahn secured a solid win at 3&2. On the Mississippi side, Natalie Bryant grabbed a point for her team with a 4&3 victory against Maci Williams. The match between Team Louisiana's Abigail McWilliams and Team Mississippi's Blake Bayliss ended in a tie, resulting in half a point for each team.
The 12-13 Boys Division saw Team Louisiana dominating, winning three out of four matches. Reed Winkler pulled off a slick 2&1 win, Hudson Greene finished with a 5&4 victory, and Ivan Popp hung on for a tight 1-up win.
Team Louisiana continued their dominance in the 14-15-year-old boys division, bagging three out of four matches and tying up the last one. Drew Prieto showed off his skills with a 6&5 win, while Hudson Partin won with a 1-up victory, and Kye Hanks secured a solid 3&2 win. Jude Lebeouf locked up with Judson Colley from Team Mississippi, ending in a tie.
In the 16-18-year-old boys division, it was neck and neck, with Team Louisiana and Team Mississippi each claiming two victories. Preston Paulk delivered a 5&4 victory, and David Marsh nailed a 2&1 win for Team Louisiana. Dax Reaux narrowly missed out against Team Mississippi's Hayden Webber, losing his match by 2 up. Harris Renfroe from Team Mississippi edged out Team Louisiana's Drew Sliman with a 1-up win.
Next year's 2024 Junior River Cup will be conducted in Mississippi.
The Junior River Cup, in its tenth year, is an annual Ryder Cup-style event hosted alternately by the Louisiana Golf Association in odd years and the Mississippi Golf Association in even years. Each team fields 20 players, with four players in each of the following age groups: Girls 13-18, Boys 10-11, Boys 12-13, Boys 14-15, and Boys 16-18. The competition features Four-Ball and Foursome (Alternate Shot) match-play on Saturday, concluding with Singles matches on Sunday. We extend our hearty thanks to Bayou Desiard Country Club for their fantastic hospitality, making this year's event an unforgettable experience for all players and fans.
This championship was conducted by the Louisiana Golf Association.
Media Contact:
Maili Bartz
maili@lgagolf.org