Lafayette, LA August 9, 2023
Scott Brame has been named recipient of the Louisiana Golf Association's Distinguished Service Award for 2023. The award was initiated in 1984 by the LGA to honor individuals who have contributed to the betterment of the game in Louisiana. Brame will be honored with the DSA at the 31st Louisiana Mid-Amateur Championship annual dinner on Thursday evening, August 10 at Oakbourne Country Club in Lafayette.
Scott Brame devoted countless of hours to the betterment of the game in Louisiana, and in particular youth golf in central Louisiana. Although Mr. Brame passed away on March 31, 2019, his legacy and those he has positively impacted through golf will live on for generations. Brame spearheaded an effort that saved the Bringhurst Golf Course in Alexandria, which has the distinction of being one of the oldest par 3 courses in America. Hundreds of individuals have found golf at a young age at Bringhurst, helping to develop a passion and love for the game that is carried through a lifetime.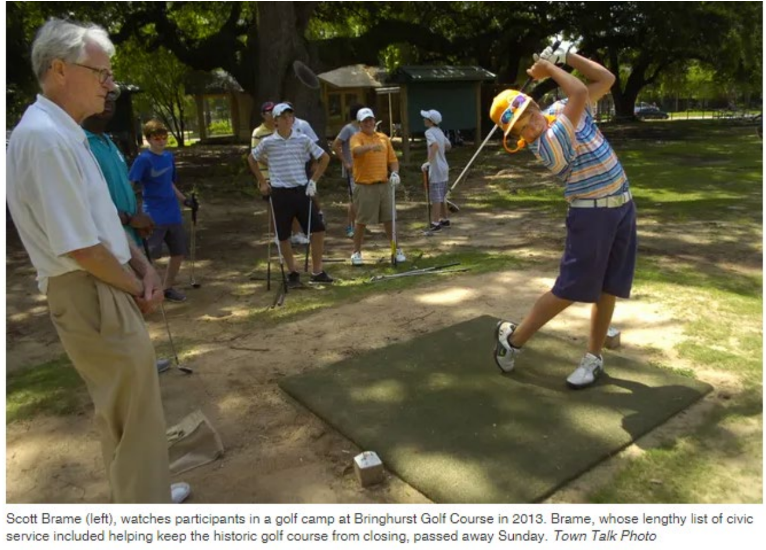 The Bringhurst Golf Course was built in the late 1920s, and as you can imagine, a golf course that has been around as long as Bringhust needed some TLC and improvements over the years. In the early 2000s, course conditions had fallen to a point that its future was uncertain. In stepped Mr. Brame, and in 2008, he began raising the capital needed to rebuild the greens, fringes, and new teeing areas. The "Friends of Bringhurst" were also successful in getting a new irrigation system installed. The original course architecture was preserved and the course reopened in 2010. Through the gift of Mr. Brame's time and efforts, the course was resurrected with quality greens and fringes, providing a solid short game test.
Mr. Brame negotiated a Cooperative Agreement with the City of Alexandria to maintain the course and for the course to be open to the public with no green fees. This arrangement now provides open access to golfers of all skill and income levels, even beginners just wanting to give golf a try. Mr. Brame hosted tournaments and youth clinics in an effort to increase awareness and promote junior golf.
After the course was renovated, Mr. Brame continued raising funds through "Friends of Bringhurst" to provide needed upgrades and this preservation and legacy continues today through the efforts of family members and friends. Mr. Brame did all of this on a volunteer basis with no expectation of recognition.
"Scott Brame embodied the selflessness and stewardship that the LGA's Distinguished Service Award is all about. He did things for the right reasons, and so many stories have come to light about his character and the positive impact he had in his community," said LGA Executive Director Logan Ray. "Brame's professional resume and list of accolades, along with his civic involvement were just as extensive as his work for golf. It is amazing that he found the time to contribute as much as he did, but the Louisiana golf community is certainly better for it. We are proud to recognize Scott posthumously for his incredible achievements and contributions to the game."
Brame was an avid golfer and won a few championships while in the 5th Army regimen, and he was the club champion at both Acadian Hills in Lafayette and Alexandria Golf & Country Club. He could still shoot below his age of 90 at the time of his passing.
Brame is the father of Grady Brame, Sr. and Grady Brame, Jr. who have won a combined seven Louisiana Golf Association Championships, including three State Amateur Championships (Sr. in 2002 and Jr. in 2014 & 2015).
List of previous LGA Distinguished Service Award recipients:
1984 W.E. "Winnie" Cole 1985 Mike Barbato 1986 Henry Thomas
1987 Bill Bass 1988 Freddie Haas, Jr. 1989 Frank Leach
1990 Tommy Wulff 1991 Albert Hand 1992 Emile Zachariah
1993 Jim McGonagill 1993 Walter Fowler 1994 John Fister
1995 Bob DeMoss 1996 Luca Barbato 1997 Oree Marsalis
1998 Johnny Myers 1999 Frank Gumpert 2000 Frank Mackel
2001 John Pruitt 2002 Charles Dugas 2003 Jay Pierson
2003 Jim Pierson 2004 Lionel Hebert 2005 Mary Capouch
2006 Ronnie Melancon 2007 Joseph Bartholomew 2008 J. Michael Veron
2009 Stuart Braud 2011 Jimmy Headrick 2012 Debbie Rivers
2012 Jim Rivers 2014 John Luffey 2015 Kelly Gibson
2017 Mike Rodrigue 2018 Carr McCalla 2019 Lew Ward
2020 Dr. John Hendry 2022 Mike Ameen