Silver Sponsor – $40 ($55 value)
A copy of the Rules of Golf Player's Edition
A three-month trial subscription to Golfweek magazine
Priority emails to LGA Championship events and news
LGA logoed cooling neck gaiter
The satisfaction of directly supporting the LGA in its initiatives to grow the game of golf. Through your support, you'll continue to help the LGA preserve the true spirit of the game that means so much to us all.
Gold Sponsor – $100 ($150 value)
You will receive all the benefits of a Silver Sponsorship plus:
A Heather Olive traditional-look Co-Pilot Dopp kit with the LGA logo from Jones Sports Company. The Dopp kit is constructed with modern materials to provide both timeless style and durable quality. With generous capacity, this overnight bag is the perfect companion to accommodate any travel toiletry need. The seamless waterproof tarpaulin interior makes for simple clean-up of leaky face scrubs and sunscreen bottles, while the side pocket encloses your quick access needs. Pair with the Co-Pilot Traveler for the perfect way to combine a round of golf into your business trip. You will also receive a yearly subscription to Golfweek magazine (instead of a three-month trial).

About the Louisiana Golf Association:
The LGA is the governing body for amateur golf in Louisiana and exists to foster the enhancement and expansion of amateur golf through the development of member and information services, the promotion of opportunities for all who want to play, and the protection of the game's integrity and valued traditions.
Support Junior Golf -Bayou State Golfer License Plate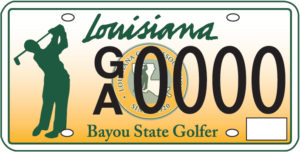 We encourage all Louisiana golfers to consider purchasing the plates now that they are available. In addition to identifying yourself as a "Bayou State Golfer," you'll also be investing in our wonderful game in Louisiana. We look forward to seeing the "Bayou State Golfer" license plates proudly displayed on vehicles throughout the "Sportsman's Paradise" and abroad.  

The plates will cost an additional $25 annually ($50 for the traditional two-year registration cycle) with the additional revenue generated being invested in Junior Golf and growth of the game initiatives in Louisiana.