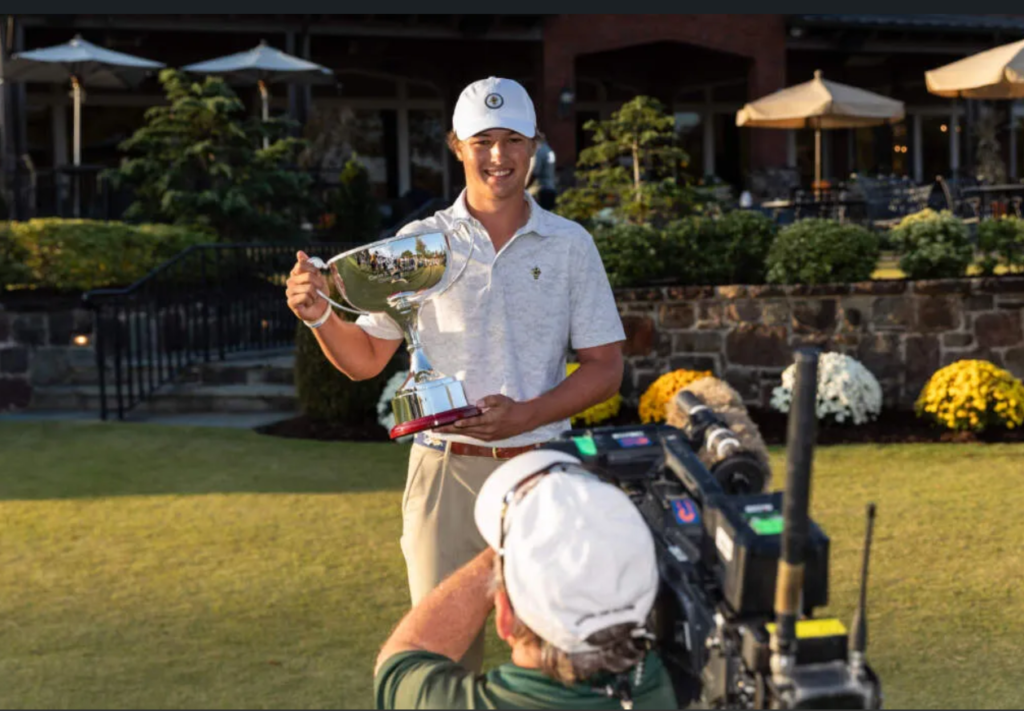 By Georgia Tech Athletics | October 30, 2023
THE FLATS – Freshman Kale Fontenot fired a 4-under-par 68 Monday to capture the men's individual championship at the ninth-annual East Lake Cup at the Atlanta Athletic Club. The fifth-ranked Yellow Jackets posted a 2-over-par team total of 290 and earned the No. 3 seed in the four-team bracket for match play which begins Tuesday morning.
Tech gets a rematch in one semifinal match Tuesday with top-ranked North Carolina (285, -3), whom Tech defeated in the NCAA Championship semifinals last May. The Tar Heels finished second in Monday's stroke-play round at 3-under-par 285. Florida State grabbed the top seed by carding a 5-under-par 283 and will face Florida (292, +4) in the other semifinal match. The winners of Tuesday's semifinals will play for the championship Wednesday, while the losers face off in a consolation match.
The East Lake Cup features the semifinalists from both the men's and women's NCAA championships from last spring – Florida, Georgia Tech, Florida State and North Carolina for the men, and Wake Forest, Southern California, Stanford and Texas A&M for the women. The tournament format features 18 holes of stroke play to determine an individual male and female champion, and to set seedings for team match play. There will then be two rounds of match play to determine a team champion, along with a consolation match to determine third place. Team matches consist of five individual matches, each win counting one point for the team.
Tuesday's semifinals begin at 10:40 a.m. on the Atlanta Athletic Club's Highlands course, with the Jackets taking on the Tar Heels, followed by the Seminoles against the Gators. Golf Channel will provide live television coverage from 3-6 p.m.
Fontenot started Monday's round with back-to-back birdies and added three more before making the turn at 3-under-par. The Lafayette, La., native posted eight pars and a birdie on the back side, the birdie coming at the par-4 16th hole to lift him to the top of the leaderboard. He finished one stroke ahead of North Carolina twin brothers David and Maxwell Ford, who each shot 3-under-par 69s.
Senior Christo Lamprecht (George, South Africa) shot an even-par 70 Monday, while freshman Carson Kim (Yorba Linda, Calif.) carded a 2-over-par 74 and senior Bartley Forrester (Gainesville, Ga.) added a 76 (+4) to complete the Jackets' team score of 290. Sophomore Hiroshi Tai (Singapore) did not factor after posting an 80.
THEY SAID IT
"I was just hitting it really well, hitting driver well off the tee and just really staying committed to my lines and my targets. I had Coach with me pretty much the whole day. He's a pretty good confidence booster, just making sure I'm making the right decisions and everything." – Kale Fontenot on his round Monday
"I was playing some really good golf when I got here and then midway through the season, a little struggle. It's been a rollercoaster, but I think today I really found my stride and I think this is how I'll play the rest of the year, so I'm excited." – Fontenot on his play this fall
"He's come in and worked really hard. He's physically really, really gifted and it's just a function of starting to believe in yourself. Every time you move from one level to the next, most of them wonder. It's just kind of convince him to gain some confidence through the process. This is just kind of the icing on the cake. You've got to bake the cake through your daily work. Came in early, worked really hard, played some of the courses and qualified for the first event. He kind of showed up ready to go and really committed and really mature from that standpoint. That's special when you see that." – Head coach Bruce Heppler on Fontenot