Membership for the 2021 LJGT season is now open! We are excited to continue to grow the Louisiana Junior Golf Tour. Click here to register for 2021 LJGT Membership! 
2021 Membership packets will include an LJGT logoed Jones Sports Co Shag Bag/Cooler, a sleeve of golf balls and a Rules of Golf book! Packets will be distributed at the Sam Burns Junior Four-Ball Championship. If you do not participate in the first event, packets will be mailed out after the event. Registration for all other LJGT events will open on February 1, 2021.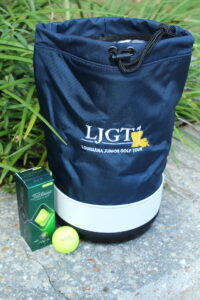 Registration for the 2021 Sam Burns Junior Four-Ball is also open! Click here to join us at Squire Creek Country Club February 27-28 and please find the 2021 LJGT schedule below! We are still working to finalize the schedule and will update you with new information once that becomes available. 
We look forward to seeing you there!
2021 LOUISIANA JUNIOR GOLF TOUR SCHEDULE OF EVENTS
Event                                                                 Site                                                                 Dates
Sam Burns Junior Four-Ball Championship Squire Creek Country Club                   February 27-28, 2021
                                                                   Choudrant, LA
LJGT at Oakwing                                     Oakwing Golf Club                                     May, 22-23, 2021
                                                                  Alexiandria, LA                                                                 
LJGT at U Club                                       The University Club                                     June 13-14, 2021
                                                                 Baton Rouge, LA
64th Louisiana Junior Amateur Championship      Ellendale Country Club                            July 7-9, 2021
56th Louisiana Girl's Junior Amateur Championship     Houma, La
David Toms Junior Championship         East Ridge Country Club                                  July 27-28, 2021
                                                                  Shreveport, LA
LJGT at Tchefuncta                              Tchefuncta Country Club                                 August 4-5, 2021                                                                    Covington, LA
Junior River Cup                                 Beau Chene Country Club                        September 18-19, 2021                                                                   Mandeville, LA                                                                 
Louisiana Junior Golf Tour Championship              TBD                                                                  TBD