Click Here to Upgrade Your Style and Support the LGA!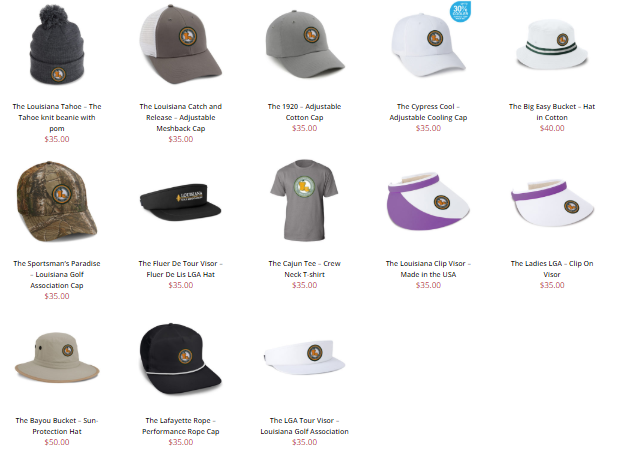 The Louisiana Golf Association (LGA) today announced a new partnership with Imperial Headwear, the #1 headwear brand for Private and Resort golf facilities as reported by the Association of Golf Merchandisers (AGM) in their Member Survey, the last 3 consecutive years.  This partnership also creates an e-commerce fundraising collaboration.
Imperial will become the "Official Headwear of the Louisiana Golf Association" under the new agreement, and provide headwear for contestants in the LGA's top competitive events in 2018.  "The LGA is excited to announce this partnership with Imperial Headwear," said Logan Ray, Executive Director of the Louisiana Golf Association.  "Imperial is a classic golf brand, and they make excellent products.  We are pleased to partner with a reputable company that proactively supports projects that help grow the game."
Imperial will also be offering limited edition LGA headwear on their website – ImperialSports.com – and a portion of the proceeds will be directed back to the Louisiana Golf Association, which supports a variety of Louisiana-based golf initiatives, including junior golf.
"I am very excited to work with the Louisiana Golf Association to raise money for their organization," said David Shaffer, vice president of sales and marketing at Imperial Headwear. "The LGA is doing wonderful things for the game of golf in Louisiana and Imperial is proud to support them in their mission."
The Limited Edition collection of hats offered online will include 12 headwear styles in multiple colors and a t-shirt with the core Louisiana Golf Association logo displayed. $10 from each cap/tee sold online will go directly to the LGA and free ground shipping is available on all products too. Click here to view the entire collection of LGA headwear and tees:
https://www.imperialsports.com/product-category/golf-association-collection/louisiana-golf-association-collection/
For more information about Imperial Headwear please visit ImperialSports.com, contact your local sales representative or call (800) 950-1916.
About Imperial Headwear
Founded in 1916, Imperial Headwear is the leading manufacturer and marketer of premium quality headwear for the golf market. Imperial is committed to style, functionality, and perfection in fit and comfort. It is this commitment that has allowed the creation of a wide variety of headwear with quality that is second to none. Renowned for its superior customer service and art customization capabilities, Imperial offers its products using the most innovative fabrics and designs, as well as logo and embroidery technologies. For further information please visit imperialsports.com or call (800) 950-1916.  Follow Imperial Headwear on Twitter and Instagram at @ImperialHats and on Facebook at facebook.com/ImperialInc.